STATE OF GRACE-August 29, 2021
If you were unable to join us for the State of Grace on Sunday, August 29, you may click
HERE  to rewatch it. To view the results of the congregational survey that were shared, please click HERE.
Highlights from the meeting include:
Worship service update from Pastor Julia Leeth and Elder Lisa Schwartz
Equipping courses and Disciple Group information from Pastor Chris French
Financial, Ready Campaign and stewardship review from Director of Ministry Support, Hardie Morgan
Permanent Senior Pastor search report from Leadership Team member, Amber Mees
STATE OF GRACE-June 6, 2021
If you were unable to join us for the State of Grace on Sunday, June 6, you may click
HERE  to rewatch it. If you would like to download this highlight as a PDF, please click HERE.
The Rev. Dr. Julia Leeth reminded us that the very fiber of Grace Presbyterian can be rooted in our founder's words written more than 50 years ago:
"I told them that I thought we had five years more and that we still had enough strength
now to do something significant for the cause of Christ, but if we dilly-dallied around and
let those five years pass we would be too weak to do anything."
~ The Reverend Dan Baker, Organizing Pastor and Pastor Emeritus
"If we moved, we wanted to move to a place where we were needed, an under-
churched area, a place where we could be of the greatest service to the kingdom of
God."
~ The Reverend Dan Baker, Organizing Pastor and Pastor Emeritus
We have a history and legacy of doing significant things for the Lord. That same
urgency that was there fifty years ago still remains today. We don't need to "dilly dally"
around and just buy time today. Instead, God has given us this grand opportunity to do
things, right here, right now for the Lord.
Leadership Development
On behalf of the Leadership Development Team, Amber Mees shared that the team has been working on a strategy called Intentional Development, which includes the College of Elders which includes elders who have served previously but are not currently on Session. These past elders are key stake holders, and their leadership will be leveraged to drive our vision forward as we re-engage the Grace family. The Leadership Development team also shared that they are prayerfully engaged in the first step of our pastoral search process, which involves defining and identifying key criteria and characteristics for the role of Lead Pastor. These criteria and characteristics will be shared with the congregation after they are finalized and approved by the Session. The next step will be for the Session to identify the people to serve on the Lead Pastor Search Committee.
Finance Update
A Financial update was shared by Executive Director Hardie Morgan. Through May 31 of this year, we have collected about $1,251,000, which is about one third of our annual goal of $3,650.000. We are about 40 percent into our fiscal year, so we have some catching up to do. We currently have 190 pledges totally $1.63 million total. We know that about 55 percent of our contributions come from pledges, so the $1.63 million in pledges is expected to result in total contributions of about $3 million. We do have to figure out how to close the gap of between our currently expected revenues of $3,000,000 and our expected costs of $3,650,000. The chart below shows the breakdown of these expected costs: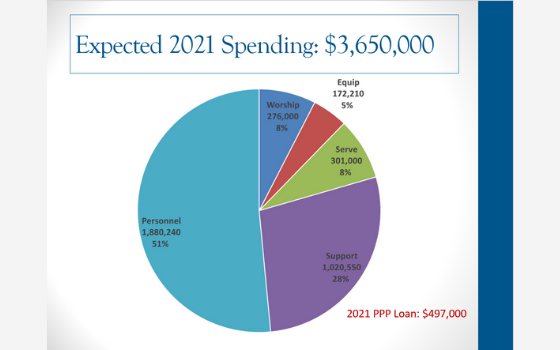 We will continue to nurture a spirit of generosity and re-engage givers to Grace. We will also continue to be transparent about our resources and fiscally-conservative as possible to be as efficient and as effective good stewards of our resources.
Staff Alignment
Dr. Julia shared her secondary task as Transitional Pastor is to create alignment under our initiatives. Recently, we shared our disciple-making mission is equipping people to make Jesus visible in their daily lives. Our strategy is that we become fully formed disciples of Jesus Christ as we Worship, Equip, and Serve Together. See the org chart HERE.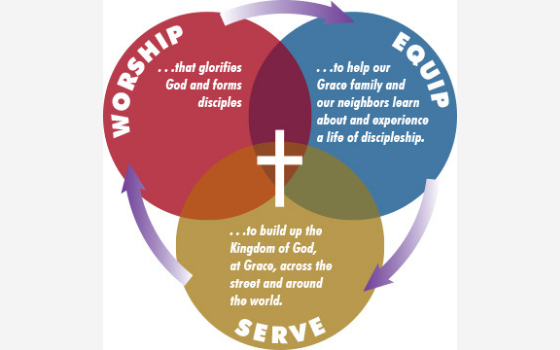 In order to run more efficiently toward this strategy and strengthen alignment, we have restructured our staff.
Worship
We value the unity that is created when we gather together as one Grace family and our next best and most faithful expression of worship will be to continue to gather together in one combined worship service. When we worship together with a variety of worship elements and styles provides us with a broad range of opportunities and tools to help people enter the presence of the Lord. This drives our desire to worship as one Grace family strengthened by all of the incredible worship elements, including our choir, our band, and the various elements from both traditional and contemporary worship.
Haiti Update
During the READY campaign, $1.2 million was designated towards "extending Grace" beyond our walls. Pastor Chris French updated us on our mobilization for this effort. The Session Serve Team decided to invest $350,000 of these funds to launch Friends of Westchase, which brought into greater focus our ability to minister in our local neighborhood and make a Kingdom impact with a "redemptive lift." We also have partnered with Living Water International in their "WASH" program (Water Access Sanitation Hygiene). We chose to focus our efforts on Haiti both through Living Water and the local church. In the past few years, we have sent multiple teams to stand shoulder to shoulder with our brothers and sisters in Christ to meet the critical needs of their beautiful home. We invite you to watch this video to see the powerful work we've had the privilege to be a part of in Haiti. As you watch, we ask you to continue to pray for this significant partnership.
Click HERE for the video.